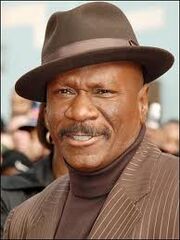 Ving Rhames (b. 1959) portrays IMF agent and computer specialist Luther Stickell in all eight theatrical Mission: Impossible movies. He also voiced the same character in the video-game spin-off Mission: Impossible - Operation Surma.
Rhames is an American actor who has appeared in movies such as Dave, Pulp Fiction, Con Air, Out of Sight, Entrapment, Final Fantasy: The Spirits Within (for voice), Lilo & Stitch (for voice), Dark Blue, and Dawn of the Dead. He has also appeared in episodes of Miami Vice, ER, UC: Undercover, Freedom: A History of Us, The District, Kojak, and the unaired pilot of Aquaman.
Community content is available under
CC-BY-SA
unless otherwise noted.