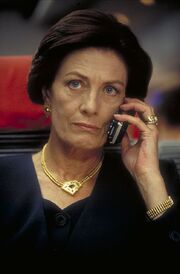 Vanessa Redgrave (b. January 30, 1937) plays Max in Mission: Impossible.
Redgrave is a British actress who has appeared in movies such as Behind the Mask, Morgan: A Suitable Case for Treatment, Blowup, The Sailor from Gibraltar, Camelot, The Charge of the Light Brigade, The Sea Gull, Isadora, A Quiet Place in the Country, Drop-out, The Devils, Vacation, The Trojan Women, Mary, Queen of Scots, Out of Season, The Seven-Per-Cent Solution, Julia, Agatha, Yanks, The Bostonians, Wetherby, Prick Up Your Ears, Howards End, Little Odessa, A Month by the Lake, Wilde, Mrs Dalloway, Deep Impact, A Rumor of Angels, Crime and Punishment, The Keeper: The Legend of Omar Khayyam, and most recently Evening. She has also appeared in episodes of Nip/Tuck.
Community content is available under
CC-BY-SA
unless otherwise noted.