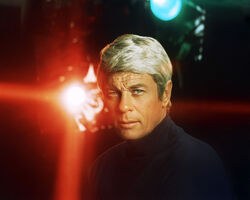 Peter Graves (b. 3/18/1926, Minneapolis, Minnesota - d. 3/14/2010, Los Angeles, California) played IMF team leader Jim Phelps in seasons 2 through 7 of the original Mission: Impossible and in both seasons of the 1988-1990 revival series. His longevity as a core cast member is only surpassed by Bob Johnson's unnamed "voice on tape" character, who participated in every televised season.
Graves was an American actor who appeared in episodes of Fireside Theatre, Fury, Whiplash, Court Martial, The Love Boat, Fantasy Island, and most recently in episodes of Biography (as the host) and 7th Heaven. He has also appeared in movies, such as It Conquered the World, Beginning of the End, Parts: The Clonus Horror, Airplane!, Airplane II: The Sequel, and Men in Black II.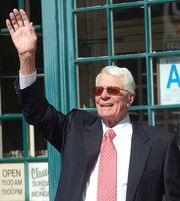 Community content is available under
CC-BY-SA
unless otherwise noted.