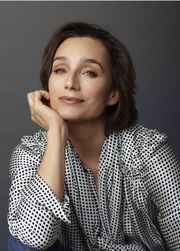 Kristin Scott Thomas (b. May 24, 1960) portrays IMF agent Sarah Davies in Mission: Impossible.
Thomas is a British actress who has appeared in movies such as A Handful of Dust, Uncontrollable Circumstances, The Bachelor, Bitter Moon, Four Weddings and a Funeral, An Unforgettable Summer, Richard III, The Confessional, Angels and Insects, Somebody to Love, The English Patient, The Horse Whisperer, The Revengers' Comedies, Random Hearts, Up at the Villa, Life as a House, Gosford Park, Man to Man, Keeping Mum, The Valet, Tell No One, The Walker, The Other Boleyn Girl and most recently as Mrs. Danvers in director Ben Wheatley's adaptation of Daphne du Maurier's Gothic romance Rebecca.
Community content is available under
CC-BY-SA
unless otherwise noted.