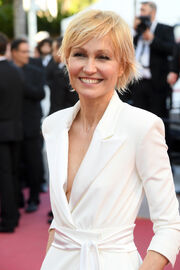 Ingeborga Edmundovna Dapkūnaitė (b. January 20, 1963) plays Hannah Williams in Mission: Impossible.
Dapkunaite is a is а Lithuanian, Russian and British theatre and cinema actress, who plays mostly in Russian films, who has appeared in movies such as Burnt by the Sun, Letters from the East, Seven Years in Tibet, Moscow, Sunburn, War, Chic, Kiss of Life, 25 Degrees in Winter, and Hannibal Rising. She has also appeared in episodes of Bodies, she played nurse Katya Bredova. In addition, she portrays a Bosnian refugee named Jasmina Blekic in Prime Suspect 6, co-starring Helen Mirren and in 2012 played Kenneth Branagh's love interest in the Wallander TV episode "Dogs of Riga" where she displayed an impressive ability to run flat-out in heels. She also starred in Branded. She also portrayed the role of Mrs Hudson in Russia's Sherlock Holmes.
Community content is available under
CC-BY-SA
unless otherwise noted.