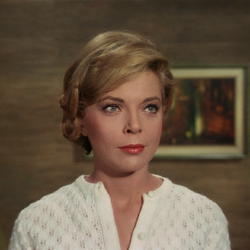 Cinnamon Carter was a fashion model/actress and a member of the IMF. She usually served in a supporting role, but she served as de facto mission leader in one episode, "The 'Action!' Mission."
Skills
[
]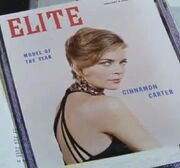 Her primary role, in her own words, was to "do what comes naturally."[1] She acted as various characters required by the jobs, often distracting male enemies with her sultry looks and seductive manner. She excelled at acting and described herself as "the best" at lying. At times, her acting skills even made her IMF teammates suspect that she'd been compromised.[2]
Cinnamon was skilled in unarmed combat, capable of disabling men larger than her.[3] In the world of grand-scale confidence games, which method the IMF used most commonly, Carter was a "roper," whose duties involved directing the mission target into the "big-store" setting in which the team would deal against and undo him or her.
Departure
[
]
Carter was acted out by Barbara Bain, who left after Season 3 with her husband Martin Landau (who played Rollin Hand). Bain stated that she got caught up in a dispute over Landau's reluctance to commit to a long-term contract, especially after he learned that Bruce Geller was departing the show at the time.[4] Bain and Landau continued acting together, most notably in the British sci-fi TV series Space: 1999. They would end up divorcing in 1993.
As far as the character of Cinnamon Carter, it is unknown whether she retired or moved on to some other work, however in the 1990s Bain reprised the role for an episode of Diagnosis Murder, at whose end she was re-activated.
References
[
]